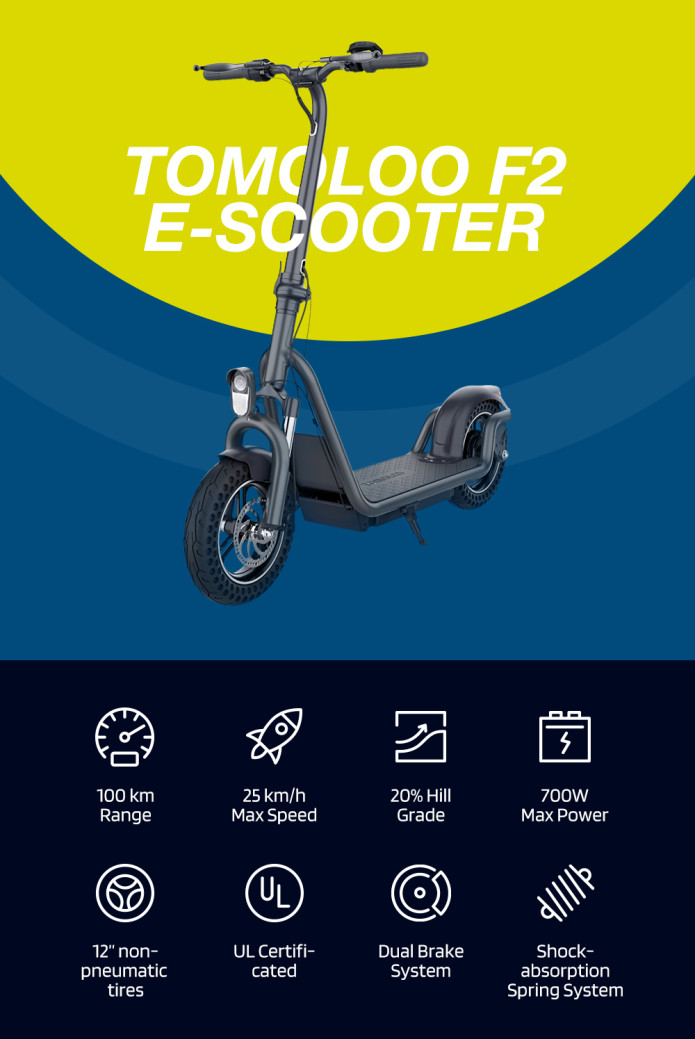 It is an ultra-long range e-scooter with a Harley-inspired look. It features a stunning 100km range with a max speed of 25 km/h and it handles up to 20% hill grade with ease. F2's 12'' non-pneumatic tires are equipped with a dual-brake system for easy and safe control and excellent braking ability. For a more comfortable ride, F2 uses a special dual shock-absorption spring system to reduce the bumps on any rocky road. Take a ride with Tomoloo F2 and enjoy your cruise in style!
Shipping Starts!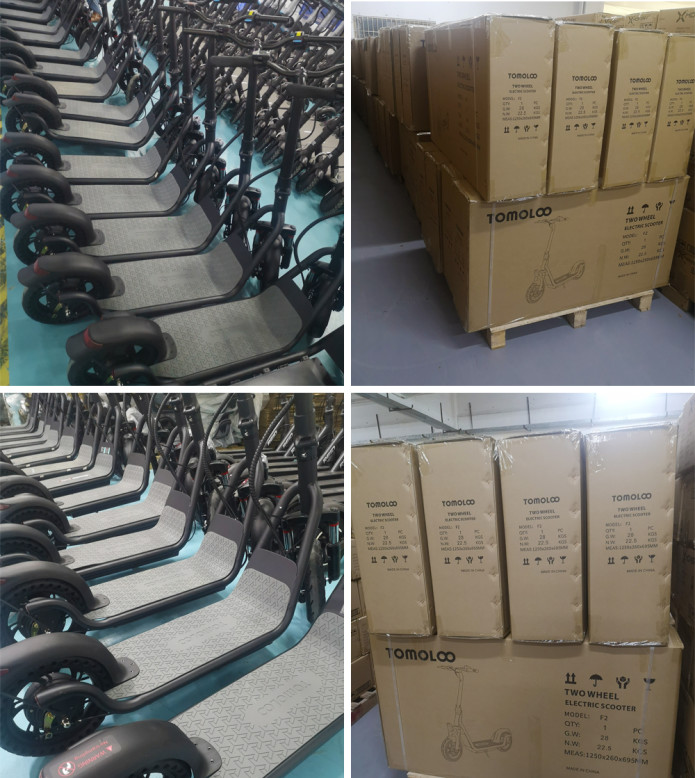 Your contribution is a guaranteed purchase! TOMOLOO is experienced in design and manufacture of e-scooter, self-balancing scooter and more, Tomoloo is one of the first enterprises passed US UL2272 certification and is committed to offering high-quality hoverboard, skateboard, and scooter to our customers since 2013. Your purchase will be delivered for sure and we will update our progress in production and shipment on time.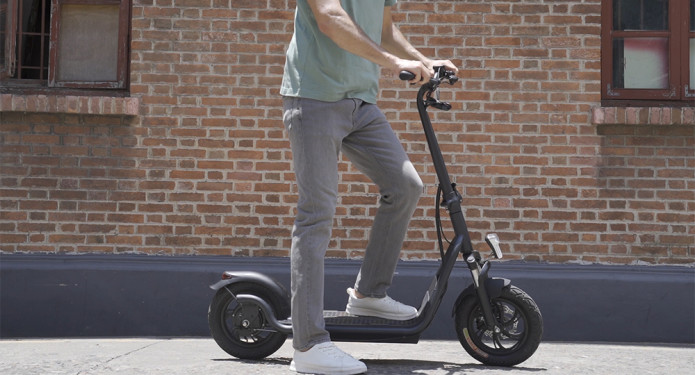 Imagine something that you can ride for 10, 20, or even up to 100 kilometers on a single charge! With an optimized battery capacity, Tomoloo F2 cruises for up to 100km (62 miles), explore the city without worry and never push your scooter home again!

F2 uses a powerful 700W motor that delivers an exceptional speed up to 25km/h (15.5 mph) to set you free from crowded streets and snail-slow traffic. With a max hill grade of 20%, F2 provides an effortless ride on any road!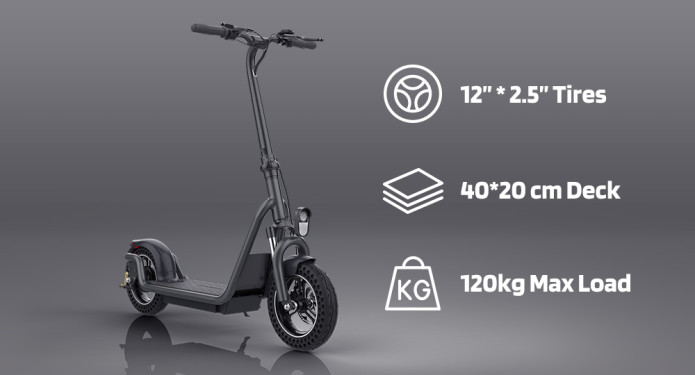 Inspired by Harley, F2 features a metal frame and two 12'' * 2.5" extra-large non-pneumatic tires which provides a wider contact patch for better traction and turning ability. Its super wide deck lets you stand in a comfortable position and cruise with ease!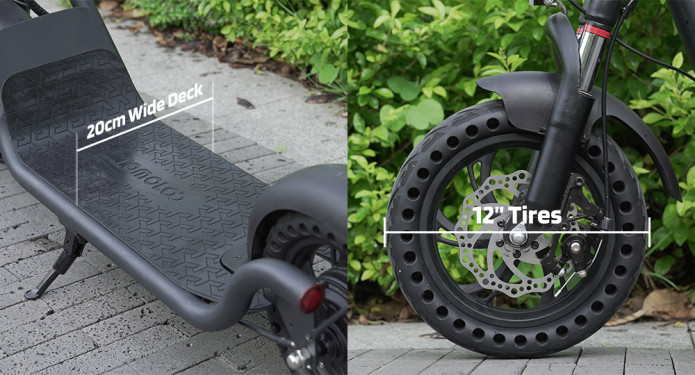 Thanks to the shock-absorption spring system in the front wheel, F2 provides amazing steering stability with good handling while reducing bumps to improve the overall riding experience even on uneven and rough surfaces.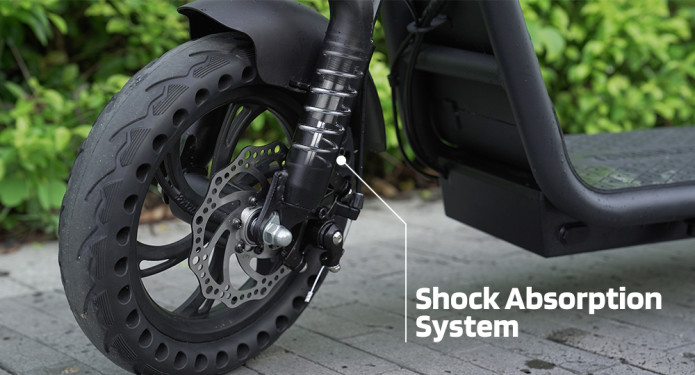 F2 is easy to use, simply select the speed level, press the thumb throttle and you are ready to cruise! If you want to stop, release the thumb and you will slow down steadily, for an effortless experience anytime!


The braking system is the most important safety component of an electric scooter. Tomoloo F2 features a dual brake system (disc brake for the front and drum brake for the rear), providing a shorter braking distances in both wet and dry condition.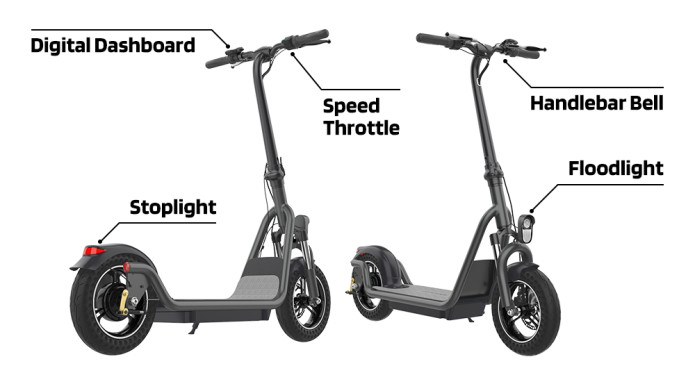 Whether you're an experienced rider or a beginner, getting started with F2 is quick and easy. Featuring two indicator lights and an alert bell, F2 is safe to ride even at night. The stoplight in the rear automatically turns on and flashes during braking for a smart and safe ride in any situation!
F2 features a digital dashboard that shows the speed in real time. Before you go, simply press the speed button to choose from 3 gear speed to meet different trip purposes.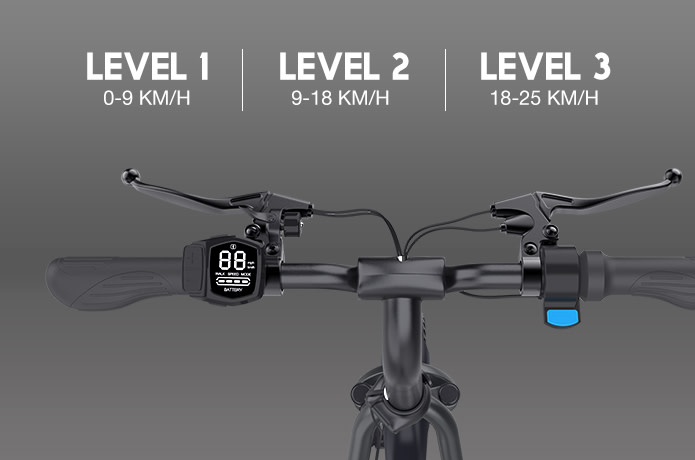 F2 is also foldable and portable, simply fold the handlebar down and it can be easily carried away or stored in your trunk!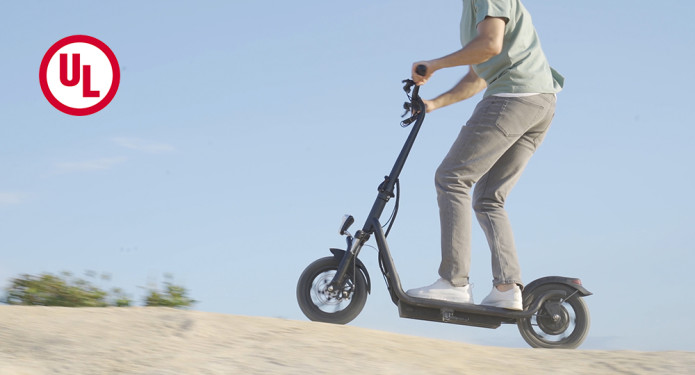 As one of the best rated scooter sellers on Amazon, the pursuit of quality and safety is always our guiding principle. Tomoloo F2 has passed US UL2272 certified standards for its safety and electrical performance, making it a safer choice for your daily ride!

F2 is IPX4 waterproof to resist splashing water, so that it's ready for whatever the road condition is!